Here at Green Eyed Motors we believe that environmental responsibilities fall on the shoulders of companies as well as individual people. That is why we specialize in selling fuel efficient vehicles, with an emphasis on hybrids and alternative fuel vehicles. We also strive to work with other green companies, including The Works and Boulder Hybrid Conversions. We believe that we all need to do our part to conserve energy and promote alternative energy sources. Contact us today and we'll help you find the fuel efficient or alternative fuel vehicle that's right for you.

Our commitment to the environment includes the use of:

Re-Refined Oil
Re-refining is an energy-efficient and environmentally beneficial method of managing used oil. Less energy is required to produce a gallon of re-refined base stock than a base stock from crude oil.
Lubricating oil does not wear out, it simply becomes dirty as it does its job. Once water and contaminants are removed from collected used oil, it is returned to a full and useful life as base oil.

There is no compromise in quality.
Re-refined Oil:
Made from recycled oil

Proven "re-refining" removes dirt and contaminants

Clean oil is blended with additives to make it work like new

Meets the Standards of the American Petroleum Institute (APIC), Society of Automotive Engineers(SAEC) and the United States Military

Environmentally Friendly Office Practices
We are committed to conducting business with the smallest foot print possible. We take advantage of electronic media whenever we can. We use natural, sustainable, recycled and renewable products whenever possible and try to purchase our supplies from fair trade and socially responsible vendors. Our goal is to educate our customers and employees on the importance of sustainability.

Green Friends


We work to foster relationships with other eco-friendly businesses.
Boulder Hybrids is one of our favorites for hybrid specific vehicle repair.
Clipper Creek is our preferred home EV Charger as we have found them to be extremely reliable and cost effective.
The Works Detail Shop, which focuses on steam and manual cleaning to limit the use of harmful chemicals, does all of our detailing.
ChargePoint+ operate the world's largest and most open electric vehicle (EV) charging network. Their mission is to get everyone behind the wheel of an EV, and provide them a place to charge wherever they go. As their network grows, it makes it easier for people to adopt EVs and driving an EV makes even more sense. Through the Charge Ahead Colorado grant we are in the process of installing 2 of their chargers for the public to use.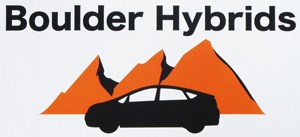 Contact us today and we'll help you find the fuel efficient or alternative fuel vehicle that's right for you.